COVID-19 Testing and Screening Update
Sentara Laboratory Services is working to launch in-house testing for Hampton Roads at Sentara Norfolk General Hospital within the next week. In the meantime, we are still dependent on commercial laboratories, which are handling extraordinarily large volumes. Therefore, Sentara Healthcare has made the decision to close its COVID-19 drive-thru screening and testing sites until further notice. We may offer additional testing if appropriate in the future.
This decision is based primarily on delays in receiving and communicating test results to our patients due to the high volumes of testing across the country. Sentara recently learned that the commercial laboratories increased its estimated return times on tests to 10 days or more due to volumes.
If you think you have been exposed to COVID-19, and have 2 of these symptoms:
Fever (100.4 or higher)
Cough
Shortness of breath
Please stay home and social distance. Continue to follow the CDC recommended prevention methods and monitor for a change in symptoms.
If you are an older adult OR have an underlying health condition, please follow the guidance below and our team members can help direct you to a testing location near you.
Call your healthcare provider for further guidance.
If you don't have a primary care provider or cannot reach your care team click here to view our virtual care options
If you require immediate medical attention, please call your nearest emergency department. View our list of Sentara emergency departments by clicking here.
Sentara Using Telehealth to Keep Patients Safe While Staying at Home
More than 1,200 providers from Sentara Medical Group are now treating patients virtually to help keep them healthy, and at home, during the COVID-19 pandemic. Sentara Healthcare has been offering telehealth visits through a Virtual Care Team since 2018. But now, to help decrease the spread of germs and promote social distancing, most Sentara Medical Group providers have now moved to video visits to treat patients without having them travel to their doctor's office.
Since March 17, Sentara care teams have completed more than 10,500 telehealth appointments. Before March, the average number of visits each day was roughly 20. Now, the average number of daily visits is more than 2,000. While many of these telehealth visits are patients with COVID-19 concerns, patients can engage in a telehealth visit for basic urgent care needs, medication refills, and chronic care needs with their PCP or Sentara Practice Partner. Patients are able to be clinically screened and accessed by their provider virtually and then connected with the appropriate care.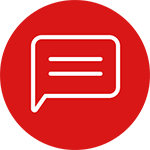 Coronavirus Assessment Tool